EVS PHARM –
EVS Pharm provides Full Spectrum, Broad Spectrum & Isolate products for dogs & Horses. Our pellets are Full Spectrum CBD containing major & minor cannabinoids and terpenes to offer maximum benefits. 
Open to read more
By activating the body's endocannabinoid receptors, CBD promotes overall healthy function of the following:​

Digestive System

Lungs & Respiratory System

Heart & Circulatory System

Brain & Central Nervous System

The Endocrine System

Skeletal System

Epidermis

The Peripheral Nervous System

Reproductive System

Urinary System

Muscular System
Learn more at www.EVSPharm.com .
SUITE STALL MATS –
Our Suite Stall Mats are made from quality materials right here in the state of Texas, in the good old USA!
The top is a durable, easy to clean vinyl- and the bottom is a closed cell foam which means it will not absorb any liquids!
The mats are light and portable, perfect for hauling and use for stalling, standing on concrete at the trailer, or even for resting on… So many uses that you won't want to take your horse anywhere without yours!
Learn more at www.SuiteStallMats.com .
LAMEAWAY –
Lameaway is a family owned and operated business, established in 2008 with one product of spray called 'The Old School Horse Rub'. Since then we have developed three additional products; poultice, wash and a wound salve. Each products consists of a blend of CBD and essential oils that are specially formulated to be a powerful penetrating anti-inflammatory and pain reducer.​
Open to read more
Not only do our all our products contain full spectrum CBD but here is a list of the essential oils that compliment them;

Turmeric– Cleanse wounds, reduce inflammation and promote healing.

Celery Seed- Reduces muscle spasms and cramps, anti-inflammatory agent.

Willow Bark– May be the oldest herb known to treat pain and inflammation.

Black Pepper– Warm and sooth the body. It can also offer a way to support cartilage and joint function.

Ginger Root– Anti-bacterial and anti-inflammatory properties.

Birch– When applied to wounds, allowing for greater production of inflammatory substance that fight harmful bacteria and remove dead tissue.

Frankincense– Contain the anti-inflammatory boswellian acid, and are astringent and anti-inflammatory.

Garlic– Treatment of bacterial and fungal infections.

Eucalyptus Oil– Has antioxidant, anti-inflammatory and pain-relieving effects.

Arnica- Derived from the arnica flower of the sunflower family, arnica oil helps to reduce inflammatory.
See more at www.LameAway.com .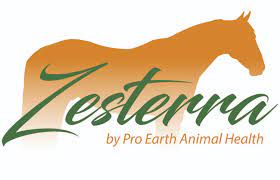 ZESTERRA –
Zesterra® relieves stress and other digestive disorders by boosting appetite, improving water consumption and reducing acidity in the stomach.
Open to read more
It also serves as the following:
Stress Reliever:

 The neutralization of excess acid in the stomach reduces the production of stress-elevating cortisol.

Improves Hydration:

 In addition to reducing excess acid in the stomach (which may discourage water consumption),

 

horses love the taste of Zesterra®, which also helps encourage drinking.

Appetite Booster:

 The increase of healthy gut flora and neutralization of acid helps boost appetite.

Ulcer Prevention:

 Reduction of stomach acid is key to ulcer prevention, and it also improves the rate of healing in horses that are being treated for this condition.

Facilitates Ideal Body Condition Score:

 With the improvement in digestion, nutrient absorption and appetite, horses — especially hard keepers — are able to gain or maintain a healthy weight.

Prevents Respiratory Infections:

 Giving a horse a dose of Zesterra® before traveling can neutralize acid, which in turn reduces discomfort and cortisol release. This strengthens the immune system and can help prevent respiratory infection. It's also beneficial to give the horse a dose before the onset of a major weather change or when there's a disease outbreak.

Immune Booster:

Zesterra® can boost the immunity of horses, especially mares and foals during the last months of gestation and immediately after foaling.
Read more at https://proearthanimalhealth.com/zesterra/ .
www.platinumperformance.com
OUR LOCATION
Equine Veterinary Services
4025 Coleman Cut Road
Paducah, KY 42001